Versions

1.12
1.13
1.14
1.15
1.16
Required Dependencies

MMOItems
₪ Masks ₪
৲ Utilizes
MMOItems
to create unique different masks that can be crafted & upgraded at different stations. Each mask is very unique and gives its very own benefits.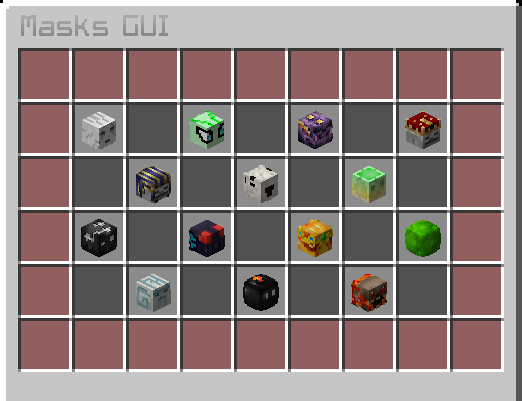 (this GUI is included, but requires
CommandPanels
)
​
Info
৲ The concept is that each mask requires a number of
mob heads
in order to craft them. Now, each mob by default has a 10% chance of dropping its head when killed. So by grinding mob heads using grinders or other methods a player can acquire enough of a certain mob head, then turn it into its 'Smoked Mob Head', same as a mob head but condensed. The player can then craft & upgrade Masks using the Smoked Heads that correlate to their mask. Remember that you may change the things you dont like in the config.
In this pack:

All masks shown above


Extra files related to the masks


Panel config as shown above


Support when needed
Have any requests? Let me know!
⎆
Devs discord:
ach#2255