Required Dependencies

MMOCore, MythicMobs Premium, MythicLib
---
Introducing "Elemental Classes"

That offers seven captivating classes that unlock the power of the elements. Master earth, fire, water, air, light, darkness, and ice to become a skilled sorcerer, protector, or explorer in the world of elemental magic.​
---
Have more ideas? Add them, or let me know to include them! It's both simple and advanced, and it works!
If you like it, please leave a rating!
​
---
What does the pack contains?
- 7 Different Elemental Classes
( Air, Earth, Water, Fire, Dark, Light, Ice )
- 100+ Skills
( 5 advanced skills per elemental )
- Pre-made GUI Class Selection
- Skills Name & Description
- Custom MMO Damage system
- Custom mana per elemental
- Custom modifiers that supports skills
- Different Attributes in all classes
- Skillbuffs
- EXP Curve File
(Goes to lvl 50)
- Ally Support
(Party/Guild)
More will be added in the future.
Class Showcase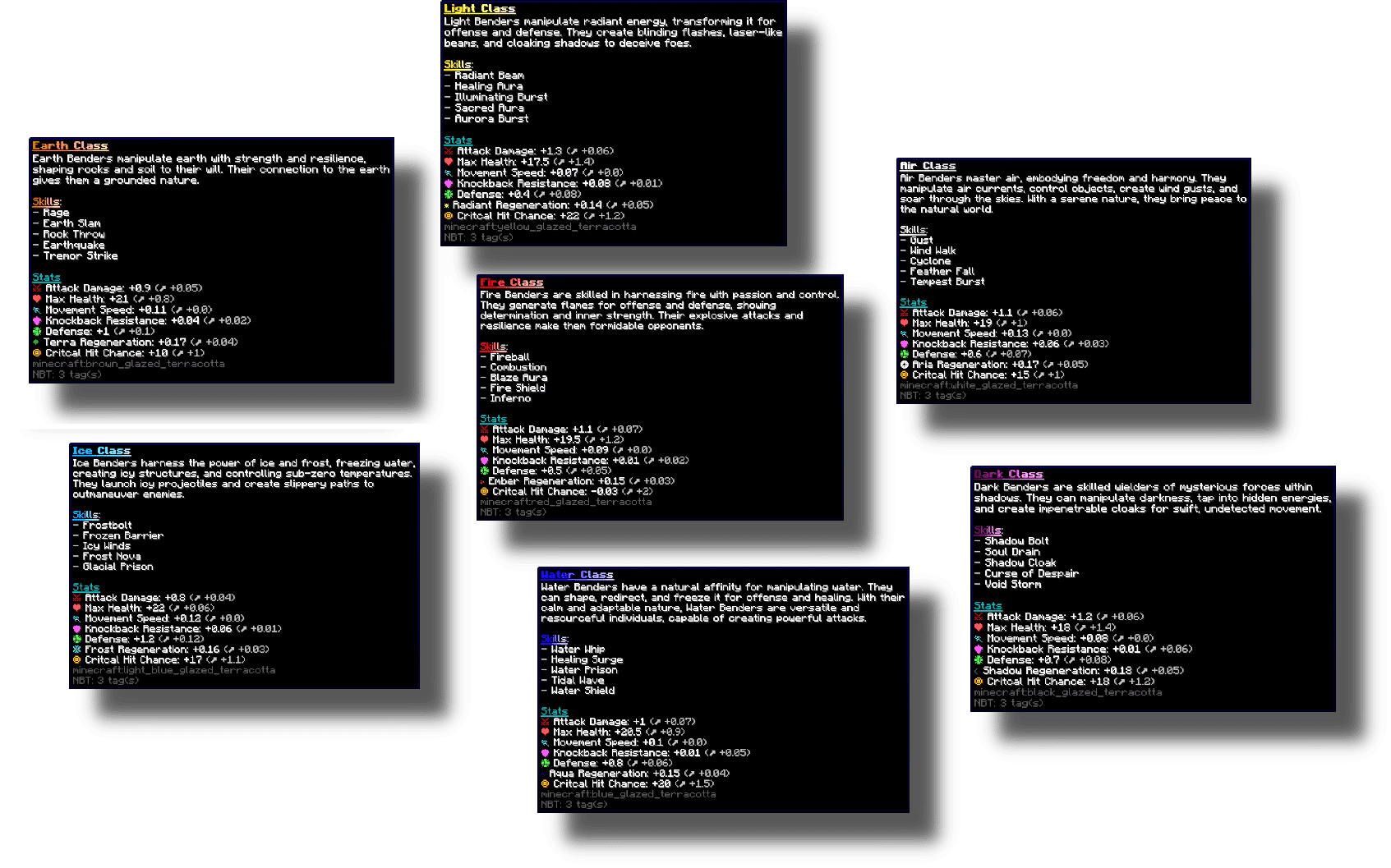 ​
---
How to install:
Drag and drop the content from "Class Pack" to the "PLUGINS" folder and click yes to REPLACE files.
You need to either restart or reload plugins.
/mythiclib reload
/mmocore reload
/mm reload

Paper ➢ 1.20.2 #292+
MythicMobs Premium ➢ #5.4.0+
MMOCore ➢ Latest
MythicLib ➢ Latest



( If you are using the free version, most features does not work )



Requirements:
MythicMobs Premium
MythicLib
MMOCore
​
---
Known issues:
- Basic pre-made modifiers as damage, cooldown, mana etc does not work with skillbuffs (will add when fixed)
​
---




Contact me through MythicCraft or join my Discord

All of my resources:
| 75+ Custom Mobs | Region Mobs | 4 Bosses | 300+ Skills | 6 Healthbars | 100+ Items | 10+ Drops |
| Elementals Classes | 100+ Advanced Skills | MMO Damage System |
| World Scaling Level Mobs |
| 5 Elementals | 100+ Advanced Skills | Libsdisguise |
| Mob File Explanation for beginners |
| World Scaling Level Mobs | Custom Mobs | Region Mobs | [NO UPDATES]
​
---