Versions

1.19
Required Dependencies

MythicMobs (Premium v5.3.0 or higher), MythicCrucible

My Forgotten Bows pack includes, at this point, 5 different bows with full custom textures.
Each bow has unique damage, different shooting velocity and custom durability + recipes,
while still feeling very Vanilla-like!

The pack will be updated in the future so the content is not final.
It will only get better
​
---
Video:
Here is a short video that demonstrates the main features of this pack:
Textures:
A small ressource pack for the bows is included!

Crafting

:
Currently, stone bows can be crafted into either iron bows or golden bows. Iron bows are the basis for diamond bows, from which netherite bows can be crafted. The golden bows will then be the basis for emerald bows and echo / sculk bows after a future update (as long as I don't have a cooler idea in the meantime).


The upgrade to netherite bows currently only works in crafting tables!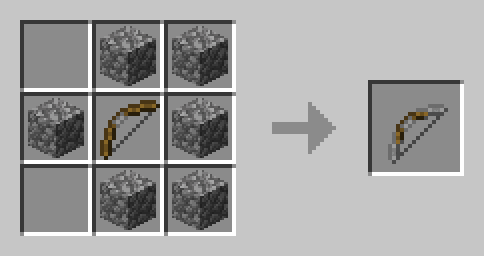 ​
---
1. Download the pack
2. Make sure to have MythicMobs (Premium v5.3.0 or higher) and MythicCrucible installed on your server
3. Place the folder "ForgottenBowsPack-1.0.0" into /plugins/MythicMobs/Packs and type ingame /mm reload
4. Install the included RP and select it ingame (file name: "Forgotten_Bows_RP_v1.0.0")
5. Make sure to be in survival mode and have fun


If you need help installing or have any problems with the pack, feel free to join my discord server for support: https://discord.gg/3PmDCbq
---
Known Bugs / Problems / Limits:
I tried to make the bows feel as vanilla as possible. However, there were some limitations due to missing MM functions or because I wanted to avoid unnecessary code through work arounds.
​
- The bows do not work in creative mode (I could easily add it, but it is unnecessary code since the items are meant to be used in survival / adventure mode)
- Only normal and spectral arrows will have custom velocity / particles
- spectral arrows are displayed as normal arrows and picked up as such (the shoot mechanic does not support the arrowType attribute atm)
- Arrows shot with the flame enchantment have no burning texture (not supported by the shoot mechanic atm)
---
Minecraft 1.19.2
MythicMobs Premium 5.3.0
MythicCrucible 1.6.0